Today is the big day! My Google Tag Manager course that I've been carefully crafting this entire summer is now open for enrollment. If you are just starting with Google Tag Manager or are a fresh intermediate user, then this is for you.
This time, I will not tell you how awesome Google Tag Manager is. The fact that I've already posted more than 100 GTM blog posts by now should imply this by default. However, if you're new to GTM, here are 11 reasons why it should be in your marketing/analytics stack.
Early-Bird bonus: Live Q&A Sessions (Livestream)
This offer is valid until September 5th, 2018. If you enroll in my Google Tag Manager Masterclass during the initial launch, as a bonus I'll host 4 live sessions where you can ask me anything you want about GTM. If you have some specific problem or maybe some lesson wasn't very clear, I'll answer that during the Q&A session
What will you learn in this course?
In Google Tag Manager Masterclass, I'll teach you how to:
How to save money and time, be in control of your website tracking, launch tracking campaigns faster, and avoid hassles with developers
How to implement Google Analytics, Google Ads, Facebook Pixel, and other analytics and advertising tools on your website
How to measure valuable and important website interactions which drive real insights
How to easily and properly test your new implementation
How to make your tag management GDPR-compliant
How to apply your new knowledge in actual real-life projects
After completing this comprehensive course your advertising and analytics will become much more effective, you learn how to manage your tracking codes and collect data with Google Tag Manager. Mastering GTM on your own isn't easy, but you can take the fast-track with this on-demand course and get more value faster.
Who is this course for?
I designed this course for:
beginners who are just starting with GTM (or maybe just considering to start)
and fresh intermediate users who still haven't connected all the puzzle pieces in order to systematically think how X or Y should be tracked with GTM
What's inside the course?
The course consists of 9 modules (9 hours of video content). I start with very basics of GTM (what are tags, triggers, variables, how to install Google Analytics) and then gradually make lessons more and more difficult.
During the entire course, I emphasize the importance of the Data Layer. For starters, this concept might look difficult, but eventually, you'll get the idea.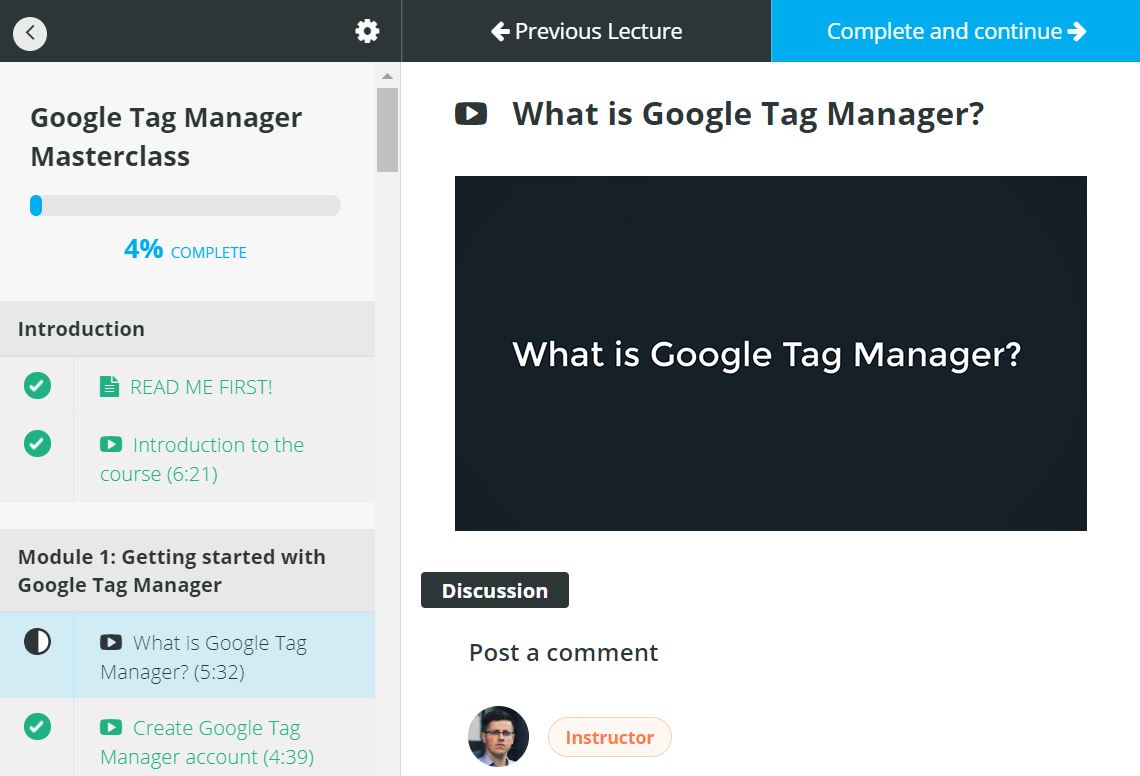 Some modules include unique content that I haven't shared anywhere before, like my personal event tracking framework (a particular workflow that I teach GTM beginners), my approach when it comes to implementing Google Tag Manager in new/existing projects, etc.
I believe in courses that provide actual practical knowledge. A theory is ok, but practice makes it perfect. That's why I have prepared a sandbox website where you will be practicing. The majority of videos in this course are taken exactly on that website, therefore, you will be able to immediately apply my tutorials in action.
Every module ends with a quick quiz to strengthen your new knowledge.
I was having an intense discussion with myself, how should this course end: with an exam/questionnaire or a practical task. Eventually, I chose the latter and decided to personally review each student's task + give personal feedback. Once a student completes that task, he/she will have to invite me to their container and I'll check what's right and what's wrong. I believe that this option is more valuable to students because they get one more chance to discuss their learning progress with the instructor.
The course includes multiple downloadable resources/templates, e.g. GTM migration checklist (how I migrate my projects from hardcoded tracking codes to Tag Manager).
And let's not forget two must-haves: Lifetime access to course materials and a private group (on Facebook).
This course in on-demand, this means that you can access its content whenever you need to revisit a particular topic. After you signup, you'll get the access to all modules at once. I know that some instructors prefer drip courses (week-by-week) but I, as a binge-watcher, prefer to get all at once. That's why I give all to you.
Oh, and how could I forget the course completion course…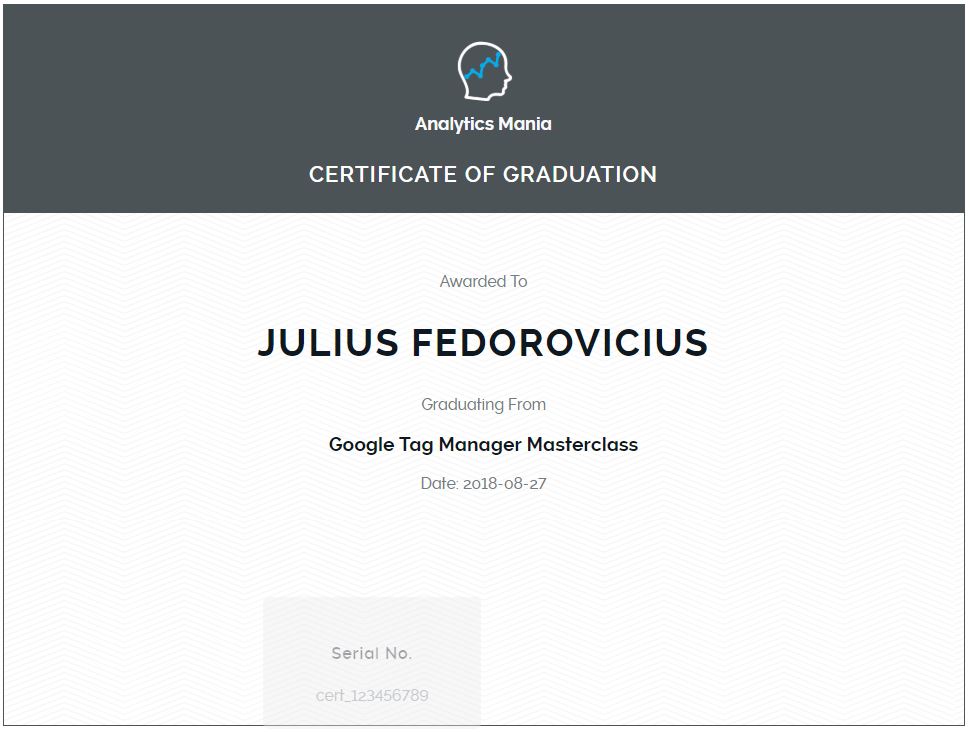 Why is this course different?
Some of the aforementioned features are indeed unique compared to other courses out there:
Not many of them can offer sandbox websites.
Some of the lessons contain my personal approach to particular GTM topics that I haven't shared on Analytics Mania or GTM communities. Those workflows allow my beginner students to better put all the puzzle pieces together (I have applied those methods in my live workshops with hundreds of students).
As far as I've seen, other courses just scratch the surface how you should adapt to GDPR.
I will personally review your final task/homework and give you feedback.
Is this course right for you?
This course is designed for those who have no previous GTM experience or who have been using it for a while but are not completely confident with the platform. If you want to transition from a beginner/newbie to an experienced intermediate user, then you've come to the right place.
This course is right for you if:
You want to learn how to use Google Tag Manager properly
You've already been working with Google Analytics or other analytics tool and want to enrich your reports with custom data FAST
You're fed up with developers who take ages to install your tracking codes
You want to take the control of your web tracking efforts
You are a digital marketing specialist how wants to track conversions easier
You want to know how Google Tag Manager can fit your organization
You run a digital marketing agency and want to onboard newcomers faster
However, you should skip this course if you consider yourself as an experienced or advanced Google Tag Manager user, or you want to learn how to use Google Tag Manager on mobile apps or AMPs (in this course, I cover only regular website tracking).
What's the price?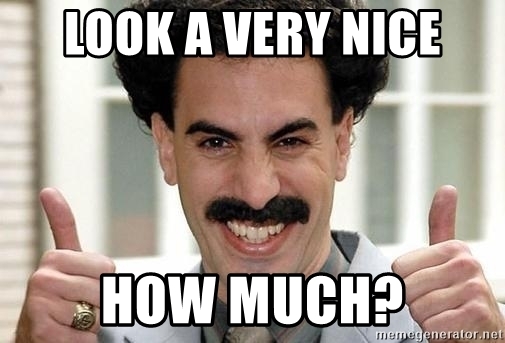 The price of the course is $289 one-time fee but now I offer it at an early-bird price, $199. The offer is valid until September 5th, 2018.
Where can I learn more about this course?
I've prepared a separate landing page for this course, it contains the curriculum, the first video of the course, frequently asked questions, etc.
The post Google Tag Manager Course by Analytics Mania is live! appeared first on Analytics Mania.

Source: analyticsmania